Lesson 4: Balancing Player Exposures Within a Slate
There are nights when I only play one lineup per site. There are also nights when I play one main lineup (that I enter into cash games and tournaments) and also four or five tournament lineups. If you are looking for the best approach to build 100-plus lineups a night, I'm not going to be the biggest help. However, some of the concepts that I talk about here will apply to everyone.
Being able to balance player exposures within a slate is critical in tournaments and critical to your ability to sustain profitability over the long run. There is a lot that goes into this process, but we have to understand how ownership works and ways we can leverage it to our advantage. In the last lesson, we talked about identifying the good chalk from the bad chalk. If you are able to do this consistently, you will give yourself more opportunities to finish in the top 1% of tournaments because you will see these leverage plays as they present themselves.
The first and most important thing to realize is that player exposures are going to differ for everyone based on personal risk tolerance.
To read the rest of this lesson, you must purchase the course!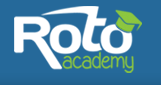 RotoAcademy offers one-of-a-kind, data-driven content to help you win.