Lesson 5: Advanced Stats for Hitters
Okay. So let's get real. I keep mentioning – over and over again – how unpredictable hitting is. That's sort of required, in a course like this. It's necessary to emphasize that hitting is not as predictable as an NBA player's output, or as the score a good quarterback will put up in a good matchup. That's absolutely true. But you know what else is true? Hitting is a lot more predictable than most people think.
____
K%
All things being equal, you want guys who put the ball in play.
"All things being equal?"
Yeah. You see, I should mention: there are times when it makes sense to roster a guy who doesn't put the ball in play a ton. If you can grab a hitter on a small slate who has huge home run upside, but most people never look to roster him because he also strikes out a lot, this is a good time to take a chance on a guy who has a harder time putting the ball in play. But the truth is, the situations in which it becomes necessary to roster "a super volatile, low-floor guy" come along less often than most people realize.
As we have said over (and over, and over) again, you want The Best Plays. And oftentimes, this doesn't mean you need to shift to the guy no one wants to roster. Instead, it just means you need to shift to the guy everyone is failing to roster. You don't want the bad play who could go off. You want the good play that everyone is overlooking.
One major way in which good plays among hitters go overlooked is from people looking through the wrong lens in their assessment of strikeout rate.
To read the rest of this lesson, you must purchase the course!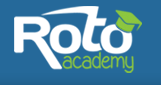 RotoAcademy offers one-of-a-kind, data-driven content to help you win.