Let Me Save You 20 Hours
Hello, class. Welcome.
Wait! Don't sit down just yet. Don't get comfortable or settled in or start assuming we are about to begin learning. Before we even begin, see, I have a homework assignment for you. (If you have read one of my other NFL courses on picking players, this homework assignment — and this "half-lesson" — is the same as what you read already. If this is the first lesson of mine you are reading, however, this is for you — starting with the homework assignment in bold below, and continuing with the rest of this extremely important stopping point between the intro and our next lesson. "Extremely important?" Yes. Seriously. Because you'll be sort of lost in the rest of this course if you don't read this lesson first.)
To read the rest of this lesson, you must purchase the course!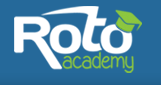 RotoAcademy offers one-of-a-kind, data-driven content to help you win.