Quarterbacks
"Just when I thought you couldn't possibly be any dumber, you go and do something like this… and totally redeem yourself!"
-Harry Dunne, Dumb & Dumber
You will feel this way about your picks plenty of times throughout the season.
Quarterbacks touch the ball more than any other position on the field. They have the most number of opportunities to succeed, which is why they are consistent fantasy options. A talented quarterback is typically the foundation of a good fantasy team. In season long leagues, streaming quarterbacks is becoming a popular strategy, but in weekly fantasy football, we need consistent production out of our field general.
To read the rest of this lesson, you must purchase the course!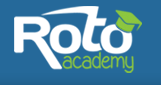 RotoAcademy offers one-of-a-kind, data-driven content to help you win.