Daily Fantasy Basketball 101: Tips and Strategies
Whether you are new to the daily fantasy sports world or whether you have been around for ages, it never hurts to sharpen your skills.
Daily fantasy basketball is a completely different animal than any other sport and should be treated as such. Here are the best tips that I can give you Grinders for NBA DFS.
Get to Know Your Site's Scoring
First and foremost, you need to learn everything you can about the site that you are playing on. That means studying the scoring system, roster construction, player flexibility, and whether it has the late swap feature. In terms of scoring, all sites have subtle differences and being able to apply them in lineup creation can help you set yourself apart from the competition.
Whether you play on one site or on multiple sites, you need to know the scoring so that you can apply it when creating your lineups. Here's a quick look at both DraftKings and FanDuel scoring for NBA:
---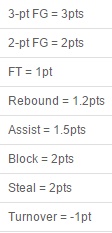 — Simple, straightforward scoring system
— No negatives for missed shots
— Turnovers negate 1 fantasy point each
— No milestone bonuses
---


— No negatives for missed shots
— Turnovers negate -0.5 fantasy points each
— 3-point made bonus
— Milestone bonuses for double-doubles and triple-doubles
---
Create a Value System
When I first started playing daily fantasy sports, creating a system for value really helped me simplify the lineup creation process. It allows you to give each player a baseline of how many fantasy points they need to score in order for them to pay off their salary. The first step is to create a fantasy point goal that is realistic and high enough to cash on most nights. This goal will vary by league type, as you'll need a much highers score to cash in GPPs than you will in cash games.
Once you determine your fantasy point goal, simply take the total and divide by the total salary cap of the site that you are playing on. For instance, if you determine that 250 points is your goal on DraftKings, divide that by $50,000 (total available salary). This tells you that you need roughly 5 FPs per $1,000 of salary in order to reach your goal. When you hear experts say that a player should reach 5x their salary, this is what they are talking about. Using a simple value system can be extremely useful, as it will help you spot players that are over or under-priced. Keep in mind that you generally need more than 5x salary from your cheaper players and less than the 5x salary from superstar players.
Injuries / Opportunity
If you have never played daily fantasy basketball before, you will quickly learn that in the NBA, opportunity is everything. Minutes directly lead to opportunity and opportunity leads directly to production. Due to this, injuries impact daily fantasy basketball more than in any other fantasy sport. When a player is injured, his minutes and his production are both going to get picked up by his backup and the rest of his teammates. One of the best strategies in daily fantasy basketball is taking advantage of backups that see a boost in production due to injuries. You don't want to be the one player that doesn't have the extremely cheap backup player making a spot start.
In order to keep up with the numerous injuries around the league, you should constantly monitor player updates throughout the day. My advice is to open up a separate tab in your browser that has Rotoworld's NBA Player News. Throughout the day, read each and every player update so that you are on top of all of the NBA news when it's time to create your lineups. Once it gets closer to tip-off, this is where Twitter takes over as the best tool for injury updates. The best follows on Twitter are the team's beat writers as well as reputable fantasy sources. Don't trust random sources though! Anyone else remember the fake Joakim Noah update last year?
Pace of Play
Pace of play is another key component of daily fantasy basketball, and once again it relates to opportunity. Pace of play measures the number of possessions that each team averages per game. The faster the pace of play, the more possessions a team has. The more possessions a team has, the more opportunities there are for the players on that team to score fantasy points.
There are two ways to predict the pace of play in the NBA, and they are both fairly simple. You can average the two team's possessions per game or you can simply look at the point totals in the Vegas lines.
Defense vs. Position Rankings (DvP)
NBA Defense vs. Position rankings are another great tool to use in the NBA. These rankings measure how many fantasy points each team gives up to each position on the floor relative to the rest of the league. You will quickly see popular trends in daily fantasy basketball, such as targeting opposing PGs against the Sixers, targeting big men against the Nuggets, or whatever it may be. The DvP rankings help you spot these favorable matchups each night.
When looking at the rankings, it's typically best to look two sets. Looking at both season-long DvP rankings as well as recent DvP rankings will help you spot any new trends in how teams are defending each position.
Targeting Hot / Cold Streaks
Basketball is one of the "streakiest" sports around. In MLB, players can go on hot streaks, but momentum typically only goes as far as the next starting pitcher that a player faces. In the NFL, there are too many factors that go into the plays each week to make a hot streak worth any value.
But in the NBA, momentum plays a huge role for both teams and for individual players. When a player has confidence in his game, he's likely going to be more aggressive on both ends of the floor. Targeting players on hot streaks is a good strategy as long as you are not overpaying for that recent production. Likewise, it can also be a good strategy to target players that have had a cold streak whose salaries are extremely depressed.
Using the "Experts"
As the industry grows, so does the amount of coverage for daily fantasy sports. There are a ton of "experts" out there that give out their opinion on the games each and every day. With so much information out there, it's nearly impossible to compile it all into a single optimal lineup. My advice is to read or listen to as much advice as you can and to look for common plays. The more experts that agree on a player or a matchup, the better.
One of the best tools on RotoGrinders is the NBA Consensus Picks from the experts. You can quickly see each expert's favorite plays at each position based on the salaries for each site.
Be Ready for the Madness
After you've spent hours monitoring injuries, breaking down matchups, and studying player salaries, be ready to throw it all out the window in the last 15 minutes before lineups lock. There are so many last minute scratches in the NBA that you have to constantly be ready to change your lineups.
Whether you play as a hobby or for a living, you need to carve out the last 15-30 minutes before lineups lock and devote them solely to DFS because they are the most important 15-30 minutes of the day.
What's next?
Hopefully this was a solid introduction to DFS NBA. To continue to sharpen your strategies and build the best possible lineups each night, you might want to check out some of these other tools and content here on RotoGrinders:
— NBA Daily Research Tools No matter which site you're playing on, our research consoles have the daily projections, stats and picks you need each day.
— Grinders Forum – Our Main Forum is a great place to talk NBA strategy and ask questions, including dedicated threads to each night's games.
— GrindersLive and Podcasts – Join our experts for daily videocasts and podcasts. Perfect for those of you that don't like to read!
— RotoAcademy – Both paid and free strategy courses from some of the sharpest minds in the industry.
— Incentives – Our premium content. Tailored to a specific site and sport, this is a great way to take your DFS games to the next level. (Use one of our daily fantasy promo codes when signing up and get a FREE one-year subscription to that site's Incentives content.)
CHEERS TO A PROFITABLE NBA SEASON!