Daily Fantasy Golf: How to Construct a Winning Lineup

Now is the perfect time to sharpen your skills in daily fantasy golf. Golf is really starting to gain some momentum in DFS. With the likes of DraftKings, Victiv, FantasyAces and others offering fantasy leagues for golf, the sport is really starting to come into it's own. It's really one of my favorite sports because it lasts over four days and it makes watching golf so much more interesting if you are one of the many that have a hard time watching golf. With some big tournaments coming up, now is the time to try out daily fantasy golf.
Editor's Note: Haven't heard? We've got DraftKings PGA incentives, which include full projections and expert picks from Notorious, as well as top plays from 2014 FSWA Golf Writer of the Year, Gibbathy! Find out more about our incentives offerings here!
Whether you are new to daily fantasy golf or have been playing for a while, one thing is certain: there is quite a steep learning curve. This article is meant to ease the burden of learning a new sport by giving you tips on what you should be looking for each week when creating your lineups. Even if you are already playing daily fantasy golf, it never hurts to improve your strategy. I've listed the top factors that I use each week when creating a golf lineup. If you can incorporate these into your weekly routine, you should be able to improve your performance in daily fantasy golf on a weekly basis.
Vegas Odds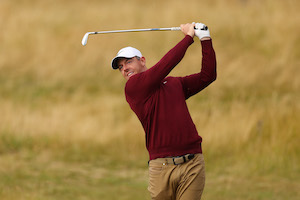 Vegas Odds are probably the easiest research tool to use and they also just so happen to be one of the most readily available research tools in golf. Vegas Odds take into account all of the other golf factors that we will talk about today and bundle them up into one little number for each golfer. While the odds certainly aren't perfect, they are a great tool to use to not only get an idea of who the favorites will be for the week, but they can also point out some golfers that may be under-priced on a particular site.
Using Vegas Odds is a quick and easy way to build a team and is the recommended approach if you don't have a ton of time to devote to researching each week.
Past Performance
Past performance at a particular course or event can be a great indicator of how a player will perform at a certain event. Many courses favor certain styles of play, whether it be the type of grass, the layout of the course, or the length of the course. In addition to the style of the course, many golfers have a ton of experience on certain courses. Experience and comfort-ability on a course will give certain golfers a much higher confidence coming into the week that the rest of the field. You will often see the same golfers at the top of the leaderboards every year at certain events.
While we can easily state the importance of history at a course, finding the research is a bit more difficult. There aren't any websites that are purely devoted to analyzing how every golfer has performed at a certain course. To accomplish this, I've done this in a few ways. First off, I like to read as many previews of the event as possible. These can be found by doing a quick web search of the event. The previews will always highlight players that have performed well at that event in the past and also give you a great idea of how the course sets up and which type of golfers the event favors.
I also like to look at the leaderboards from the past few years. This are also very easy to find. All you have to do is just do a quick search for the event's leaderboard (2014, 2013, 2012, etc) and you will be able to see who performed well at these events. Keep in mind that a lot of this is already factored into the Vegas Odds, but past performance at an event is a great way to look for players that should be a lock to make the cut and hopefully be in contention come Sunday.
Current Performance
If you were to only construct a team of golfers that have played well in the past at certain events, you would likely miss out on a bunch of players that either 1.) don't have a ton of experience in general or 2.) are just starting to come into their own. The best young players in the game don't have a ton of past experience at events, but continually make great plays each week.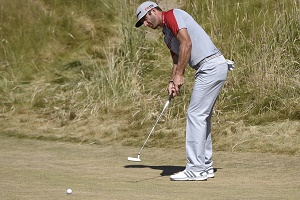 Therefore, it's important to factor in past performance as well as recent performance. Golf is a very streaky sport that is all about confidence. You will often see golfers have good and bad stretches throughout the season. The key is to target them while they are playing well and while their confidence is up. Targeting players that have been playing well recently is never a bad strategy.
Cut Percentage
One of the biggest difference makers in daily fantasy golf is the cut. Most events feature a cut after the first two rounds of play. For every player in your lineup that doesn't make the cut, you are essentially losing out on two full rounds of golf. That is a lot of fantasy points lost for every golfer that doesn't make the cut. For that reason, this is the single most important aspect of daily fantasy golf. One of the biggest problems that players have that are new to daily fantasy golf is that they think they have to construct a team of the top names in golf and end up taking bad players to fill the rest of their lineup. However, even if you have 3 golfers finish in the top 10, if your other 3 golfers all miss the cut, you will likely be well out of the money.
Using a players season cut percentage, past cut history at particular events, as well as recent cut performance will really help you in daily fantasy golf. I would much rather have a lineup that consists of six golfers that have a great chance to make the cut instead of three top golfers and three golfers that could easily miss the cut. For me, it is all about creating a balanced lineup. Often times in the NBA, MLB, and NFL you can use a team of stars and scrubs, but that often comes back to bite you in daily fantasy golf if the scrubs don't pan out. Your goal each week should be to construct a lineup of golfers that will all make the cut.
Knowing Which Golf Stats to Use
In my opinion, golf stats can often be very misleading. Most of the statistics are a little too black and white for them to have much value. Let me give you a couple of examples. One golfer could hit the fairway and have his ball roll into the first cut of rough, but still be in a great position on the hole. What does this count as? A missed fairway. Another golfer can slice his drive 100 yards into the trees and it counts as the exact same thing: a missed fairway.
The same can be said for greens in regulation. One golfer could badly mishit his iron and end up on the very front of the green and be 75 feet away from the hole. Another golfer could hit a great shot into the green, but have his ball roll onto the fringe and and it ends up 15 feet from the hole which counts as a missed green. If you were to just look at the stats, the first golfer would appear to be in a better position which is clearly not the case.
For that reason, it's hard to use these two stats to predict future performance. Instead, I like to use stats that correlate to certain styles of golf courses. My favorite statistics to look at are ball striking, scrambling ability, strokes gained in putting, and driving distance. All of these can have a direct correlation with performance on certain styles of courses.
If you have any questions, feel free to ask!