RotoAcademy Preview: Learning a GPP-Focused Mindset for NFL DFS
Welcome, Grinders! It has been some time since I last produced a course for RotoAcademy, so it made sense to me to kick out some fresh content in time for the upcoming NFL season. In pondering topics to write about, I simply thought about the questions that I get asked most often as a daily fantasy player. Over the last few years, the biggest question has almost always been:
"How can I learn to be better at tournament play?"
Almost everyone in DFS is comfortable with cash game play these days. It's not difficult to identify the obvious plays most of the time, and those are going to be the cornerstones of your cash game rosters. Many times, sharp head-to-head games will be a simple 2 vs. 2 matchup for the win, and the edge is getting smaller by the day.
Less and less people are becoming inclined to be the true "cash game" grinder because of how difficult that is in the current climate. If you are looking for an edge in DFS, these days it almost undoubtedly comes from tournament play. Yes, it's hard to win a GPP (guaranteed prize pool) event. Yes, it's even harder to win with a single entry. That's simple math – it's naturally going to be harder to win when you have one entry compared to 20 or 40 or 100 from someone else. However, that brings up an important discussion point:
If you are going to hold the sword to your chest that you can't win because you only have one entry while others have 150 entries, you might as well just close your laptop/phone/tablet right now.
Eliminating that mindset is the first hurdle you need to overcome.
You are less likely to win with one entry compared to someone with ten entries, but you also have one-tenth of the other person's risk. Cherry-picking this argument isn't going to get you anywhere. On the contrary, it might actually increase your odds of winning with any single individual lineup. Why? Because those who mass multi-enter progressively lower their expected value with each additional lineup they enter.
In theory, your first lineup is your "optimal" one, and anything after that is a step or two away from optimal. This may be a hard concept to grasp, but the point is that this is the biggest mental hurdle I see.
Free yourself from the struggle that is being "the little guy" or "a fish in a pool of sharks." Focus on your own process and your own game, and that will be far more productive for you in the long run.
Others might be reading this course because they want to be the 150-lineup kind of person in tournaments, and I'll touch on that in one of the later lessons. For now, we just need to clear the mental state. Ignore the noise that might exist and focus on yourself. Your process. That's what matters here. Once you're mentally ready to tackle GPP play, it's time to move forward.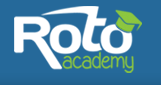 RotoAcademy offers data-driven strategy content to help you win.