Interview with 2014 FFFC Champ: escot4
Many who play DFS dream of one day qualifying for a live final. It's no easy feat, which is what makes Scott "escot4" Hanson's accomplishments all the more impressive.
Hanson earned his spot for the 2014 FanDuel Fantasy Football Championship off a $2 qualifier and then blew away the competition in Vegas, besting the rest of the field by over 20 points on his way to claiming the mammoth $2,000,000 check.
Not satisfied, escot4 used his significant bankroll boost to attack the NBA, and it's paid off handsomely. He has qualified for both the DraftKings and FanDuel live basketball finals, proving that he's not just a one-hit wonder.
Eager to get to know more about the FFFC winner? We caught up with Hanson ahead of this weekend's FBWC, which will hand out $1,000,000 to first place.
How did you first get introduced to DFS? What were your first impressions of the industry?
Before NFL season, I saw FanDuel commercials quite a bit, but didn't really think anything of it. During Week 2 of the NFL season, my wife was next to me on the couch watching some football and another FanDuel commercial came on. She said "you're really good at fantasy football… you should try that and maybe win us some money." I was surprised she brought it up, since I already spent so much time watching football and focusing on my season-long teams, but I gave it a try. I didn't really get a big first impression. I was just sort of feeling things out at first and trying to see which types of games I would be best at.
What's your favorite DFS sport and why?
My favorite DFS sport is NFL. I love the complexity of the game, planning for a whole week, and watching games while tracking my lineups. Every weekend of NFL's regular season can feel like a championship week if you've got a team that's showing well in a large tournament or qualifier. I also really enjoy basketball, but the late scratches and lack of lineup news can sometimes be frustrating.
The FanDuel NFL live final was obviously a huge game-changer for you, but were you having any success in DFS prior? What helped you improve your DFS play over time?
Actually, my 3rd week of DFS I only put a single lineup into the Sunday NFL Rush $5 tournament, and it happened to win 1st place for $15,000. I later found that my same lineup would have won $150,000 had I entered the $25 Sunday Million contest. A few weeks after that, I qualified for the FFFC, but again failed to put my lineup into the Sunday Million, where it would have won $40,000 that week. Now I always duplicate each lineup into all the same tournaments. The thing that probably helped me improve most was just getting more experience. As you go along, you start to pick up on patterns and tendencies that other winning players and lineups have. I always look at the top lineups in tournaments to try and figure out what they saw that I didn't.
How did you qualify for the 2014 FFFC? Was it a single bullet?
I qualified off of an entry in the $2 qualifier, but it was not a single bullet. I had about 30 lineups in the $2 qualifier that week, but it was still a big field of over 59,000 people.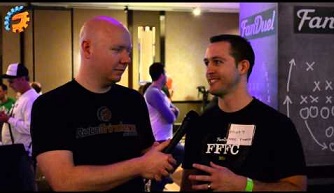 What was your confidence level like heading into the FFFC event?
I actually was very confident coming in. I felt like my NFL knowledge was up there with just about anybody at the tournament, particularly because of my experience working as an analyst for Pro Football Focus. Taking around ten hours each week to focus in on every detail of a single game really makes you notice things that you didn't before. I feel like that experience has helped me notice players who were about to break out. That said, anything could have happened in a single weekend, so I was still very much on edge the whole time.
How surreal was it to take home the first-place prize? Reverse engineer your lineup for us if you wouldn't mind.
It was amazing. When I woke up the next morning I immediately went online to make sure that it actually happened and it wasn't just a dream. Here was some of my thought process when making my lineup that week.
QB – Derek Anderson – Early in the week Cam Newton was announced out. I had Anderson locked in because of his minimum price and never really considered taking him out all week.
RB – Le'Veon Bell – Bell was another player I had locked in all week. I knew he'd be heavily owned, but he was on such a tear and didn't seem like he was going to let up.
RB – Jeremy Hill – This one I went back and forth with for a while. I finally settled on Hill at around 3:30am that Sunday due to him getting an increase in workload along with producing so well in his other opportunities. I also liked his matchup against Cleveland with Manziel at QB. I thought Manziel could flop and turn the ball over deep in his own territory, and that's exactly what happened.
WR – Odell Beckham – This was another that was locked in all week. Beckham was outperforming his salary every week and had another great matchup. He was highly owned and for good reason.
WR – Demaryius Thomas – I went between Thomas and Antonio Brown throughout the week, but settled on Thomas Saturday night. I had both projected about the same, but it looked like Brown would be more highly owned, and having both Bell and Brown could cap my team's upside a little bit.
WR – Donte Moncrief – I liked Moncrief's ceiling and it seemed like he would start getting more targets. He's a talented player, but just didn't really get it going that day and put up zero points for me. However, he did actually have a beautiful diving TD catch that was called back by a holding penalty.
TE – Antonio Gates – This pick went with the Jeremy Hill pick. I was either going with Chris Ivory and Rob Gronkowski, or Jeremy Hill and Antonio Gates. I felt like Gates had a good chance at a TD against a Broncos D that had struggled against tight ends, and didn't like that Ivory would be in a 50/50 committee.
K – Connor Barth – Originally I had Nugent in with Ivory and Gronk. Going with Hill and Gates allowed me to move up to Barth, who was kicking a lot of field goals around that time. The pick was also a bit of a hedge against Demaryius Thomas. I figured if Thomas wasn't scoring, at least Barth would be.
D – Kansas City – This was another that I had locked in all week. They were playing the Raiders, who are one of the likeliest teams in the league to give up a defensive TD to their opponent.
You have carried over that amazing momentum from NFL season into the NBA, qualifying for both the DK and FD live finals. Are you eager to keep this crazy heater going?
Of course! I'd love to have a strong finish to the NBA season, especially since I'm not planning on doing MLB. It's going to be a lot easier to take time away from DFS if I have a good showing in the finals.
How are you feeling heading into the DraftKings FBWC? Have you put any thought into what kind of approach you'll be taking?
More than anything, I'm nervous about having a late scratch or a somebody who gets injured and doesn't return. The NBA has been crazy lately with late scratches, and some don't get announced until after lineups lock. I hope it doesn't happen to anyone in the tournament. As for the approach, I've been thinking about it, but can't really make any decisions until salaries and injury news becomes available. I don't think I'll have any players labeled "questionable" unless they are confirmed to be playing before lineups lock, but that's probably the same as everyone else. I don't feel the need to be especially contrarian given that there are only 40 seats, but often times it just ends up happening anyway.
Talk a little about your general lineup-building mindset. Are you primarily a cash game or GPP player?
For NBA I only do GPPs. I tried the cash games for a while and was not doing particularly well. My ROI on tournaments was so much higher that any money I was putting towards cash games was basically taking away from my amount of GPP lineups and capping my ceiling. For NFL I do some cash games, but my main focus is GPPs by far. I like large tournaments because you have to find that perfect combination of players who all go off on the same day. It's especially fun if you can multi-enter tournaments because you can have so many different correlation plays. I like to stack different games and try to predict which other players it will impact if one particular player goes off.
If you had to pinpoint one element research-wise, what would you say has been the biggest reason for your success?
The biggest one is probably also the most simple. Injury news. When a player is announced out of the lineup, it means so much more than just "well, can't use him anymore." It affects his entire team, as well as the opponent. I'll re-do most of my projections for a game when a key player ends up out of the lineup, and often times that's when the biggest values are uncovered. Not even just from his replacement, but many times from another starter on the team who will take on a more prominent role.
You recently started up Contrarian Central, a column that highlights some under-the-radar NBA plays. Is locating these diamonds in the rough one of your favorite parts of DFS? Were you the same way during NFL season?
Locating diamonds in the rough is definitely one of my favorite parts of DFS. However, the Contrarian Central column typically is about overlooked players as opposed to players who are about to break out. It's a lot tougher to write about players who are on the verge of a breakout in NBA because it's often contingent upon an injury that we don't know about until after all the articles for the day have been out. During NFL season it was a bit easier to pinpoint breakout players because we had more time to research and build lineups without going down to the wire of roster lock.
Do you play any sports yourself?
I played basketball a ton growing up, but hadn't for a long time until recently. Lately I've been getting back to it at least once or twice a week.
What plans do you have for your extensive DFS winnings? Any big purchases yet?
The main plan is buying a house. There's a good chance that will happen before the end of 2015. The first thing my wife and I did with the winnings was pay off all student loans. After that, I bought her a car. We only had one car before the win, so it's pretty nice having two now. I'm not a huge car person, so I still drive my 2006 Hyundai and am totally fine with that.
Do you have any more future goals in the booming DFS industry?
I set out in 2015 with the goal of making at least $200,000 this calendar year doing DFS and still working as a personal trainer. I do think I'll eventually get into DFS full-time, considering that even without including the FFFC I've been making more through DFS than in my full-time job. Of course, now that I'm in the DK basketball final, I'd love to win that. I definitely will being going all-out to qualify for both the FanDuel and DraftKings NFL live finals this coming season as well. I'd also like to help the industry grow. Even purely from an entertainment standpoint, Daily Fantasy makes watching games so much more interesting than season-long does. With such a small percentage of the season-long crowd having tried DFS, I can't imagine that it wouldn't grow by a ridiculous amount again this NFL season. It's just too good of a product for more people not to get into it once they try it out.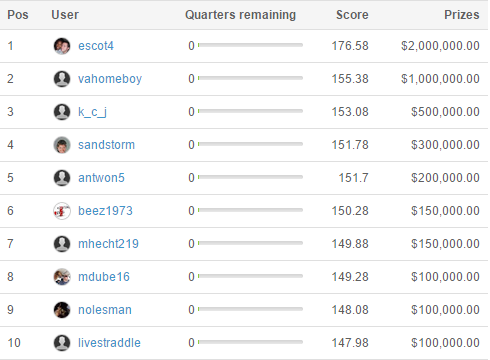 We want to thank escot4 for the interview and we wish him the best of luck at the FBWC as well as the WFBBC in early April!
(Homepage Image Credit: FanDuel.com)