NHL DFS Analytics Report: Volume 1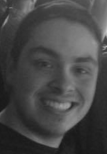 I am excited to bring this new piece to RG. As I type this, I am really not sure what would be valuable for you readers to read on a consistent basis, so each week I am going to bring out something that I feel is worth discussing to the table. This week, I want to look at a few things. First off, I want to look at some changing statistics from this year to last year. The sample size is still VERY small, but there have been a few interesting things I have noted.
In this article, I am going to discuss what I think of some new themes this year. Which teams should we be targeting? Which teams are not as bad as people think? Which players are looking great for their new teams and with their new linemates? Which teams are overrated? Vegas is always trying to use public perception to their benefit, so using their lines early in the season makes you a bit of a sheep, especially if you don't watch hockey. There are much better things to look at in order to evaluate how a game will go.
A Look At Some Early Season Trends
Looking at statistics from last season can be beneficial, and it still is, as we must realize that a very small early season sample size is hard to dub as a new trend. However, teams change, and moves are made, which makes some teams better and some worse. It is early. Keep that in mind when you read the chart that I am about to post, but there are some really telling stats nonetheless.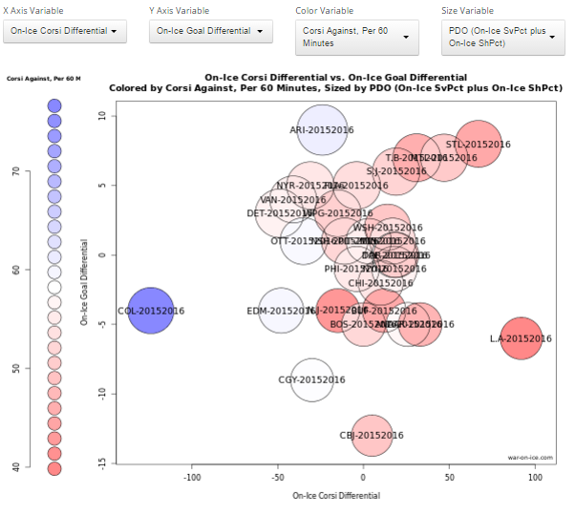 This chart is from war-on-ice.com, and was custom made by me. For those unfamiliar with corsi, it measures any shot attempt. Whether the shot misses the net, hits the net, or is blocked, it counts as a corsi attempt. Corsi is a great indicator of volume of opportunity teams will get, and with volume of opportunity comes more chances to get goals on your roster. The higher up a team is on the list, the better their goals for and against is, as you can see in the Y-axis. On the X axis we see teams that are out "corsi-ing" their opponent further right, and teams getting badly outplayed on the left. The more blue a team's circle is, the more corsi attempts per 60 minutes they allow, and the bigger the circle, indicates that they are lucky, which is measured in PDO.
Based on this chart, we can make a few observations. First of all, Colorado is still really bad at possessing the puck. I have voiced my displeasure on various outlets about how bad their offseason was, and it is showing. Colorado was a bottom three possession team last year, and this year, they have been completely outplayed by their opponents in all their games. Colorado is getting badly outplayed, and their current goal differential is unsustainable, especially considering that Reto Berra is in net (career .900 save percentage) for the immediate future.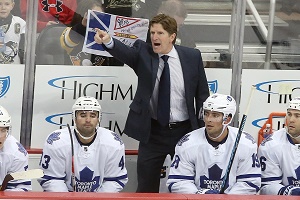 Everyone has been stacking heavily against the Leafs. While that can be justified with their terrible penalty kill so far, they are clearly a league average team at even strength, with two solid goaltenders. Their new coaching staff, led by Mike Babcock, has already gotten the team to buy in, and you can see in their interviews that they are all on board. Jake Gardiner mentioned that the team last year worked hard, but didn't work smart. In other words, they are working smarter now. The Leafs are playing really good hockey, and I would advise to not just autostack against them every night, especially in GPPs. For those of you wondering where the Leafs are in that chart, they are in the middle. If you can't read a team's name, it means they are around league average.
The Columbus Blue Jackets are getting ripped on by their fans and media. There were high hopes for them, and as you can see, they are not getting the results. But, it might not be a product of bad hockey. They are getting poor goaltending from Bobrovsky. Their small circle indicates a very low PDO, and that is simply team shooting % for added up by team save % for. If a team shoots 8% and their goalie has a .900 save percentage they have a 98 PDO. 100 is considered standard luck. Columbus sits at a PDO just over 90. This obviously will not sustain. For those of you who might argue that their corsi might not reflect how many good quality shots they get, the Jackets have been getting around 50% of the scoring chances as well. People will be quick to pick on the Jackets, but they are not that bad, and the inflated ownership based on early season raw results make stacking against Columbus a poor decision, especially in GPPs.
On the flip side of the PDO spectrum, the Coyotes have a PDO close to 110. They are a young team, with a lot more talent than last year, but Mike Smith is not a good enough goalie to sustain this play, and once he regresses, which he is already doing, Arizona will be well on their way to their expect lottery finish. Picking on the Coyotes could be a +EV move for the next week or two, as many people actually think this team is good.
The two best corsi differential teams are St. Louis and LA. This should surprise nobody. LA was my preseason pick to win the Stanley Cup, but I do think they need one more finisher on their top six. They are a tremendous systematic hockey team, but may need one goalscorer to allow them to go up on that chart. Regardless, the teams at the top right are ones you should be stacking right now.
Other teams that continue to look vulnerable on a carryover from last year are the Calgary Flames and Vancouver Canucks. Without Mike Babcock, the Red Wings have been outplayed in most games this year, but that should change once Pavel Datsyuk returns.
Applying to DFS
A look at Sunday, October 18th GPP ownership percentages indicates that people aren't really digging into the numbers.
Conveniently for this article, last night, the overvalued Avalanche travelled to LA, to face the Kings. This was a three-game slate. When building my lineups, I really expected LA to be severely highly owned, which is why I took four of their skaters and a goalie. LA was not only low owned, but MORE PEOPLE had Reto Berra over Jonathan Quick. Nathan Mackinnon was 40% owned, and Gabriel Landeskog was 30% owned.
Here is a look at my lineup from last night to show you how low owned the LA Kings were. LA outshot Colorado 40-23, and they were the way better team. It was lucky for Colorado owners that the game ended 2-1. I think this really displays how weak the NHL playing field is right now. You have the clear cut top possession team taking on the clear cut worst possession team at home, against a backup goalie no less. If anyone used Colorado last night, I would love to hear a non-narrative driven reason as to why you did it.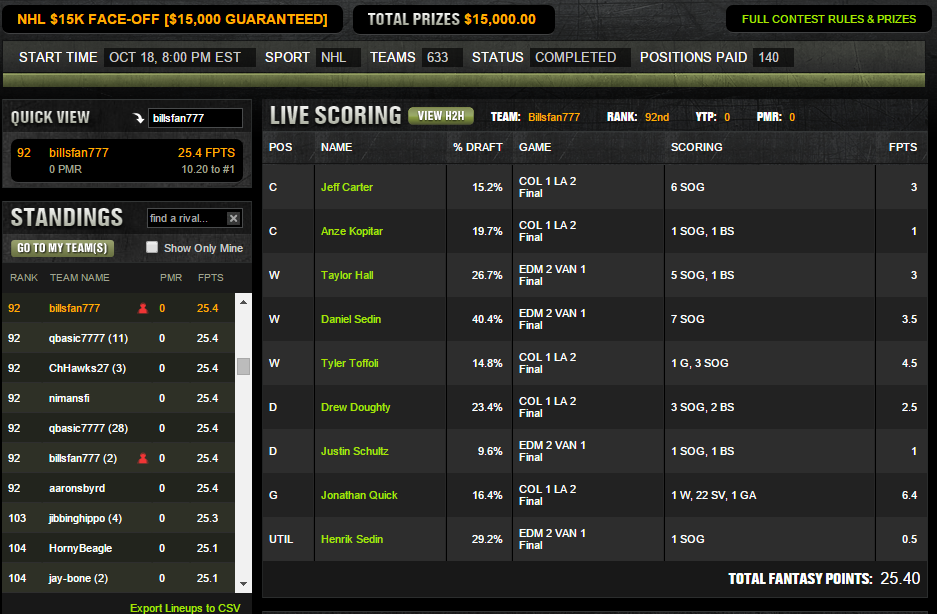 So, there you have it. Do your homework and you can get a huge edge on the field.
Now that I have covered which teams look good, here is a more detailed look at two players. One has put up great numbers this year, and the other has not. Both results might not have been expected by many. Here is why they can sustain it. I have introduced the corsi statistic, and now I will introduce WOWY stats. I will use this to test the sustainability of certain players on certain lines. For some, this may be familiar in NBA, and it works the same in NHL.
Here are a few players that look really good with their linemates so far. All stats will be via stats.hockeyanalysis.ca.
Jagr has been tremendous with his linemates in Florida. In fact, going back to last year since the trade to Florida, he has 24 points in 24 games. Is this sustainable? What has changed?
Let's take a look at his possession stats and shooting stats going back into last year, so we can compare how he does with Florida and New Jersey.

As you can see in these WOWY stats, Jagr scores way more with these guys, and that is a result of attempting more shots per 60 minutes and playing a much faster pace. It also helps to get out of New Jersey, who play a defensive shell, and Jagr's linemates in New Jersey were nowhere near the talent of Barkov and Huberdeau. If Jagr's age doesn't catch up to him, I see no reason why he cannot continue this stretch. His style of play is also ageless, as he is a patient guy who does not need to be going at full speed to be effective.
Patrick Sharp is very cheap in DFS right now, and not many people are using him. This suggests that people are really uninformed. Sharp only has two assists in five games so far, but you have to realize that at his price point, he is a must play every night, as long as he skates with Tyler Seguin and Jamie Benn. They've only had roughly 45 minutes of ice time together, but when this trio is on the ice, they predictably take over 70 shot attempts per 60 minutes, and they have scored an insane 5.5 goals per 60 minutes. While this sample is obviously very small, Patrick Sharp absolutely dominated when he skated with Toews and Hossa in Chicago, so we can expect those offensive numbers as a line to continue. If the line is scoring that much, Sharp will get his points, and he has just been a little bit unlucky to not have his name on the scoresheet more, as he looks incredible with this line.
This Week's Games
Using the stats I have provided above, I have handpicked one team to really look to target on each night of the upcoming week.
Tuesday, October 20th
Washington at Calgary – The Capitals' top line has insane possession numbers, and are lethal on the powerplay. Calgary is an overachieving team since last year, with average goaltending.
Wednesday, October 21st
Carolina at Colorado – The Hurricanes have been an elite possession team this year, and Colorado has not, as I have discussed. Not only are they really safe plays, their perception of being a bad team will likely leave Colorado as favorites, making Carolina a great GPP stack..
Thursday, October 22nd
Arizona at New York – The Rangers might be an underowned team on this slate, but they should dominate this game. Arizona's average possession numbers cannot sustain themselves long term, with their thin talent and poor goaltending. The Rangers are a good team, and that top line should do work.
Friday, October 23rd
Washington at Edmonton – I know I already recommended these guys. Looks like a long week of cheering for OVY. You'll see where Edmonton sits in possession stats, and not much has really changed since last year despite McDavid and Yakupov proving to be really important pieces.
Saturday, October 24th
Columbus at Colorado – I discussed over and undervaluing teams early in the season leading to whacky percentages. Once again, more people will be on COL than their better opponent in this one. It's a great GPP play.
Sunday, October 25th
Los Angeles at Edmonton – My favorite team to take players from against a really weak defensive Oilers team. Though I will probably be watching football, I will definitely get some exposure to this slate for the sake of using some Kings in this great spot.
Thank you for reading guys! I hope I provided some good information. You can hit me up on twitter or in the comments if you have any questions.