Week 10 NFL DFS GPP Recap: Saquon's Longest Yard
NFL Week 10 was, well…something! We saw some massive scores along with a few massive duds. Let's take a look at this we saw in the world of daily fantasy football over the weekend.
Lamar Jackson is good. Really, really good. He posted a perfect passer rating for the second time this season and that 47-yard touchdown run brought back memories of watching Barry Sanders as a kid in Detroit. Here's a reminder of the QBs drafted ahead of him (Jackson went 32nd overall) in the 2018 draft: Baker Mayfield, Sam Darnold, Josh Allen and Josh Rosen. That draft was just 19 months ago. Things change fast.
The second overall pick of that draft was Saquon Barkley. Today was likely the worst day of Barkley's running back career at any level. He racked up one single yard on 13 carries. One. Single. Yard. Even a bit banged-up, I am still struggling to wrap my head around this.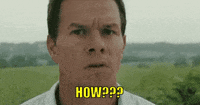 Who dat say dey gonna beat dem Saints? The Atlanta Falcons. Matt Ryan and company finally decided to show up this week and steamrolled the Saints in New Orleans. As 13.5-point underdogs on the NFL odds board, this was the biggest upset of the NFL season thus far.
I really thought the Dolphins had a legit chance of going winless this season, but they won again today proving that they're not the worst team in the NFL (maybe). Meanwhile, the Cincinnati Bengals have become masters at this whole losing thing. Baltimore scored the first 49 points in today's game before taking mercy. At 0-9, the Bengals are the leaders in the clubhouse for the #1 overall pick in next season's NFL Draft.
The Results
DraftKings
NFL $4M 100th Season Millionaire [$1M to 1st]
User jonesr101 had a nice little Sunday as they took down the $1,000,000 first place prize in the DK Milly Maker. You pretty much have to be perfect to win these things, obviously, and this lineup pretty much was. The only two players held under 23+ DK Points were Austin Hooper and Kareem Hunt. Getting 11.7 from the TE certainly doesn't kill you often and Kareem Hunt sported a minimum price tag. A Mahomes/Tyreek stack was likely the start of this lineup build, with Derrick Henry, Ronald Jones, Christian Kirk and Michael Thomas all crushing as well. Congratulations to jonesr101 on becoming the newest DFS millionaire.
NFL $2M Mini 100th Season Special [$300K to 1st] – vdawgvhsa
NFL $1M Mega 100th Season Special [$200K to 1st] – 7bushes
NFL $888K Play-Action [20 Entry Max] – medwards147
NFL $500K Power Sweep [$100K to 1st, 3 Entry Max] – crashlanding
NFL $402K Luxury Box [$100K to 1st] – weefies
FanDuel
$1.8M NFL Sunday Million ($300K to 1st)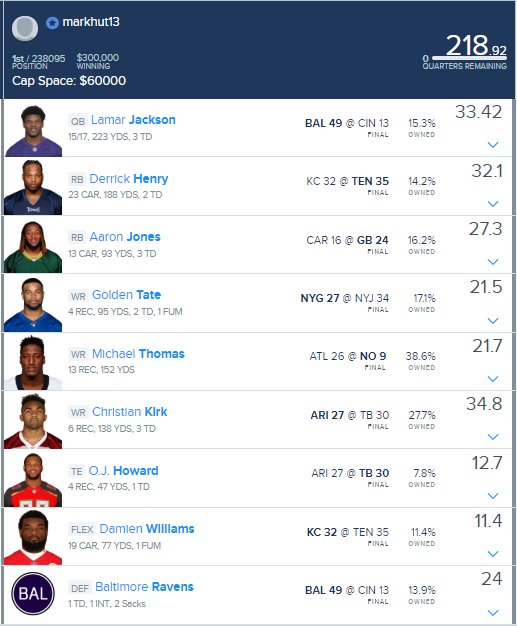 User markhut13 took down $300K in tFanDuel's Sunday Million contest. There wasn't much of a correlation attempt in this lineup (aside from Lamar Jackson and the Ravens D/ST), but pretty much nailed every single pick. Lamar Jackson, Derrick Henry and Christian Kirk all went for 30+ FanDuel points, with Aaron Jones, Golden Tate, Michael Thomas and Baltimore D/ST all posting 20+ points. Contrats on the huge win, markhut13!
$400K Sun NFL Monster ($100K to 1st) – montesdabeast
$400K Sun NFL Bomb ($100K to 1st) – numbersdontlie
$350K Sun NFL Gunslinger ($100K to 1st) – gilly3849 – We see our friend Eric Crain there with a 3rd place finish for $25K! Congrats!
$300K Sun NFL Gladiator ($100K to 1st) – ajmento6 – Honorable mention to gosixersgo76 on his weekly spot in the top ten of the leaderboards