Don't Learn Bankroll Management the Hard Way
It was a pretty frustrating sight to see my account balance at $0. I had failed. Again. While I wasn't losing much at a time, I was adding a little bit of money every month while I tried to chase the big score. "What if tonight is the night that I win the Payoff Pitch?" was the question I asked myself way too much. While I had some nice days in MLB last year, I'd be lying if I said it was a successful season in 2014. I had gone from having an account balance of well into the four figures at the start of the season to basically nothing. I often questioned my intelligence on the sport. Was I overthinking? Over researching? I knew that I knew my stuff, and it was even harder to lose knowing that I knew more than most players. However, it is pretty difficult to win when you are spending 10% one night, 25% the next, and 20% the next, in different game types night-to-night because eventually it is not going to work. I was working for RotoGrinders at the time, and every day I'd see my picks succeed, and my bankroll drop week to week.
It was the early part of August that I decided to clean out my remaining balances, thus the $0 on my account. I only had a few hundred left, but I just wanted to take a break. I had been saying for a while that I needed a break, but I kept saying that tonight could be the night I won a GPP. Newsflash: During my two-week break, it was never the night I would have won a GPP, so that's good. This break worked absolute wonders for me. I went to my family's cottage for a weekend, spent some time with friends and just pretended DFS didn't exist. Then I cracked after two weeks, and put the money I had withdrawn back on.
That money was gone really fast. I had failed yet again. This hurt way too much. I took more time to break, but during this next little break, I really started to think about bankroll management. A catchphrase I came up with was "No matter how good your lineup is, it isn't that good." In other words, no matter how confident you are in your picks, don't go over 10%. It took me TWO YEARS to realize this. I had still been a profitable player from a hot stretch in 2013, but from January 2014 to August 2014, DFS was an absolute disaster, as you can see in this chart below, which takes a look at FanDuel and DraftKings from that timeframe. It is worth noting that I played a lot on DraftStreet as well, and had success there. However, the data from there is no longer able to be tracked. If I had to guess, I would say I was up about $3,000 on DraftStreet from that time frame listed below. Most of that was moved to FanDuel and DK for the increase in April and June spendings.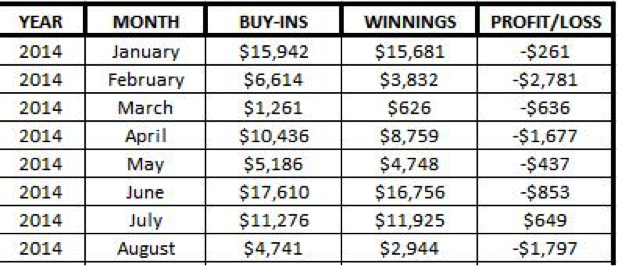 So, you might be thinking, what made me give it one more shot? Well, as a college student, I was heading back for the school year in September, and I decided that my August RotoGrinders payment was going to be my last deposit. If I lost the money that I had received on this payment, I was going to stop doing everything related to DFS and move on with my life, and I really mean that. But, with football around the corner, I wanted to give it one last go, since I loved hockey, and I loved football at the time, and I wanted to go really safe in baseball for the last bit of August and early September and see what I could do. My motivation was to never spend more than 10% a night, because I really wanted to grow my money slowly, rather than chase the big score. So, I actually did that for a while. Guess what? It worked! I turned my final $500 into about $1,600 in a little over a week, and I was all geared up to have some funds to play with for NFL.
Week 1 NFL is a big party. It's one of my favourite times of year. Apparently, everyone else didn't need DFS to enjoy the celebration of NFL. With all of the overlay on DraftKings, I actually screenshotted some of it before lock to tell some people. Here is an example of what I saw.
While my bankroll management skills got me back to having a roll, this type of overlay only comes around a few times a year. I decided to take a chance and spend almost $500 on this week of NFL, and a large portion of that was in single entry GPPs. At the time, I took a screenshot to send to my friend during a Monday Night Sweat, and I was in contention to win all of the GPPs after some fantastic late night performances from Julius Thomas, Calvin Johnson, and eventually Malcom Floyd, who later scored a touchdown.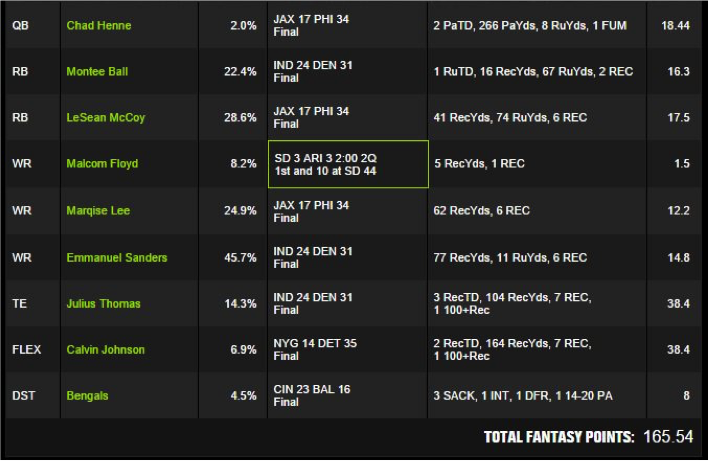 Suddenly, I had a bankroll again. Six months of being bad and stupid, and trying to learn the strategies of each sport while risking 20% a night or more at times during the process. I had around $5,500 to work with after this big opening weekend. I said to myself that I will not lose this again. No matter what. I was going to keep playing 10%, and I was going to do a lot of head to heads, and play it safe. September ended up going very well, and much of it was aided by the big night in week 1, but profit is profit, and I was happy to see I was having limited success in other areas.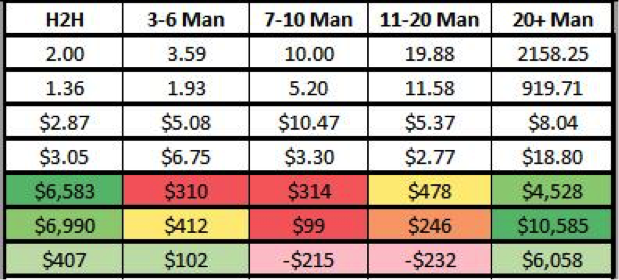 The bottom numbers in that image are the total profit. I was having more success in GPPs, which were mostly from Week 1, but I was holding my own in head to heads and 3-6 mans. My analysis led me to believe that these 7-10 and 11-20 player contests didn't have a high enough reward for the difficulty to cash them, as it's mostly sharks in the smaller field double ups and 10-man contests. However, I also realized a lot of those were qualifiers for tickets, and I decided that I would continue those for NHL in October, as I considered myself one of the better NHL players. October came and went, and much like September, it was a steady progress. Not great, but not bad. At the time, anything in the plus felt great considering how the months before in 2014 had gone. I was trusting my process, and running better than I had in the past as well. NFL went poorly in October, but a nice profit of $4,000 between NHL and NBA helped cancel out NFL, and led to a profit of $1,800 total on the month.
November went very well for me, and it led me to believe that my success could be long term. I really struggled in tournaments, but my lineups were good enough to cash head to heads and leagues. As you can see below, I lost almost $350 in 20+ man leagues (which also include double ups) and still managed a repeat performance of my October profit all through cash games. All of this led to a $1,640 profit total, and I had put together three straight winning months.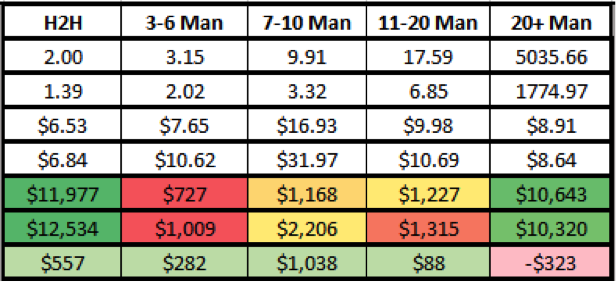 Repeating the same process through December and trusting my research, I netted around $1,000 for the month, and I was really confident going into the new year. I had put together four straight winning months, and things were on the upswing.
After netting over $8,000 in NHL from October to December, I began to get into NBA a little more. Whether it be because the Raptors were having success, or just the fact that the money to win was in NBA, I started to tinker around with NBA a little bit. I did not play very much at the beginning of the month, but with the NHL All-Star break around the corner, I decided to get into NBA a little bit early and try to get into a rhythm for the All-Star break.
On the first day of the All-Star Break for hockey, I decided I was going to try to approach NBA a little bit differently. I had started getting into With Or Without You (WOWY) stats for hockey, and I wanted to see if such a thing existed for NBA. It turns out I discovered a site which showed adjusted usage rate with certain guys on or off the court, and as soon as I found this, I was hooked. I had always valued this type of research, but I wound up having to dig back to old box scores to try and accurately forecast how players do with or without other players. I would look at field goal attempts and minutes, but it was often unreliable, and incomplete. Needless to say, this was a gift dropped from heaven, because it tracked every minute of every game, and every five-man group. And, not so coincidentally, that first day from the All-Star Break was my biggest night ever. I joined all the GPPs and did a slightly lower percentage of cash games because it was a four-game slate, and there was expected overlap. Here is a screenshot of the $200 NBA GPP, which I bought into for the first time all year.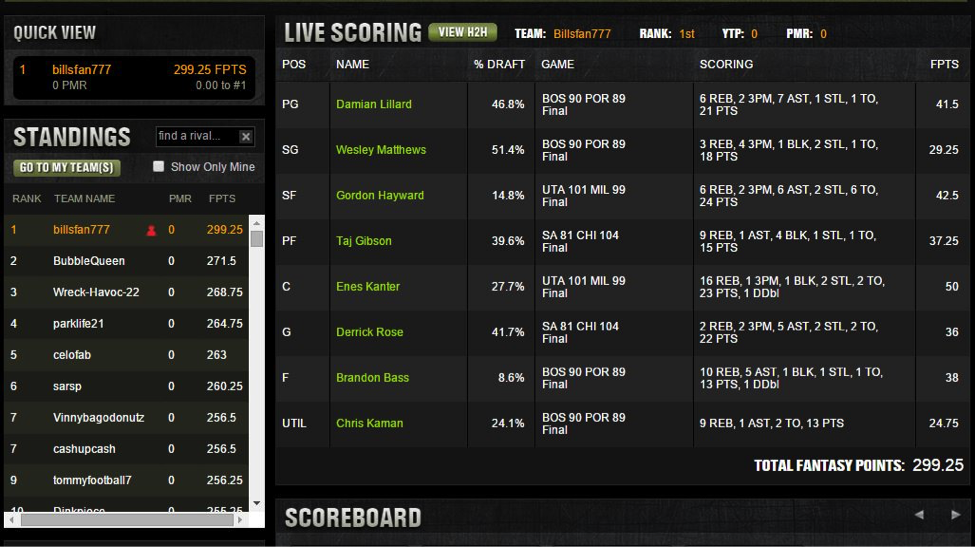 If I remember correctly, Derrick Favors was out, and the WOWY usage numbers for Gordon Hayward and Enes Kanter were off the charts high. Brandon Bass was a fill in and had been playing a consistent 25 minutes off the bench with a lot of shot attempts per minute. It was only bonus when he was announced as a starter right before tip-off. Everything worked in my favour, and it was my biggest night ever. I won a little bit under $30,000, and my bankroll grew up to $43,818, as seen in this below.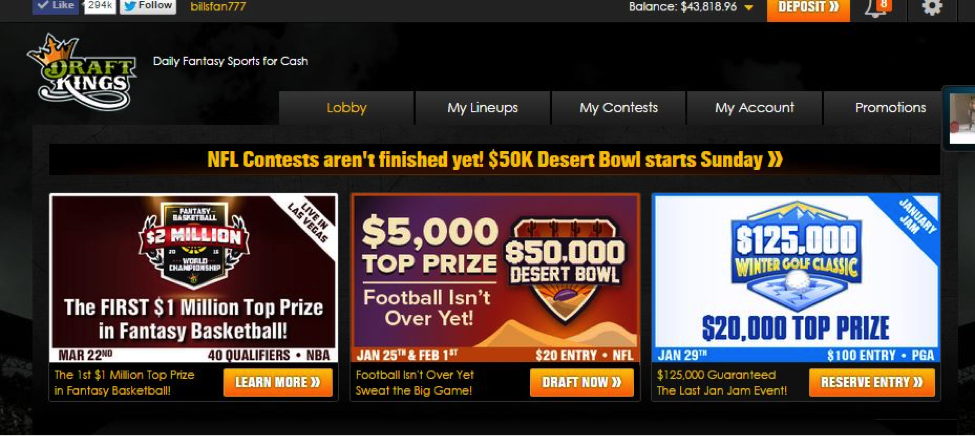 The feeling of this win was surreal, but I needed to know how to handle it. Though it was not nearly the same magnitude, I still remembered the flashback feelings of losing my smaller roll almost entirely from January to August, and I was not about to let this money grant me permission to do something stupid, like joining a bunch of qualifiers trying to ride the "heater". In fact, I was very gun shy, and continued to play a smaller amount for the next week or so. It allowed me to get used to these figures and not get a big head.
My January was obviously incredible because of this big night, but the best part to me was the consistency of my cash games. I continued to go with the same bankroll spending format, and I gradually increased up to 10% as I got more and more comfortable. Here is a breakdown of my January.

It was truly awesome. I profited in every sport, and every game type, and I was really excited for February. However, this month was a brutal wake-up call for me, and a testament to my newly found safe method of playing every night. I stuck with my old motto I came up with in August, and never chased my losing nights. I was just straight up terrible. I was running really bad, and my goalie in hockey even let in a goal from center ice one of these nights, which cost me a ton of head to heads against a guy who used the player who scored! Everything that could possibly go wrong, did go wrong.

This month was also a wake-up call, because NHL had come down to facing the same three or four guys every night, and it was starting to get frustrating. Despite running terribly in NBA, I still managed to break even on the month. As you can see, my game selection did not change, I was simply losing, and this was frustrating. However, after a month this bad, I still had a bankroll of just under $30,000. I felt terrible, but I had no business feeling terrible. Because, $30,000 last August as a bankroll would have been a God-send. On a reactive decision, I decided to focus almost all of my energy on NBA. Much like MLB, NHL is a lot of tinkering, and a lot more emotion behind picks. NBA to me is a number field. I love the sport, and I love certain players, but I rostered guys playing bad teams and playing big minutes, with high usage as much as I could. This was definitely a good decision, and I love hockey too much to stop playing, but I shifted all of my energy to NBA, and trusted my original gut feeling on NHL.
One motto that I can not emphasize enough, which led me to my success in NBA was my "Studs over value" rule. How many nights did you spend building a lineup and then blow it all up because a new value play surfaced? My tip: Stop doing that right now. It's absurd. Let's say Derrick Rose is out and Aaron Brooks is starting in his place. Is he a great play? Absolutely. Is he a better play than Russell Westbrook? No. The amount of people I'd see forcing in value, and then spending at positions on the "only playable power forward" was absolutely insane. Someone like Anthony Davis was getting 45-50 DraftKings points consistently all year, and he was priced in the mid 11s. People were choosing to sacrifice Westbrook to get Brooks in because the value at PF wasn't attractive enough. Just ask yourself if the difference in value plays were worth the 20 or so points Westbrook would be different from Anthony Davis. While this is a very rough example, and seemingly obvious, this was done on much lesser scales. My advice is to start your lineups with the three top point per dollar plays at over $8,000, and then work from there. If you have three studs who go off, it doesn't really matter what your value does.
This motto I used led to a big March and April, and it led to me spending less time tinkering on NHL, and trusting myself, and more time on NBA, which led to me perfecting my lineups and sealing any leaks. I also qualified for the Vegas NHL final after winning a $12 qualifier to the $1,000 qualifier and winning that. It was a fun experience, though 18th place was not what I had in mind.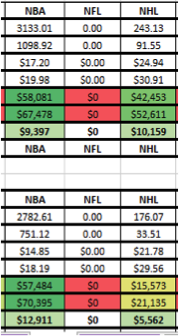 What is the point of this article? It is not for me to brag at all. If it was, I would not have admitted that I have lost in the past. So whether you view this as an inspirational article, or one that helps you refine your process, I want to emphasize a few things. Take a look at my February statistics. Now, take a look at my March statistics. Notice in 2014, my bad February relative to my bankroll crushed my month of March's buyins. While I was playing some on DraftStreet in March, I had lost my money on DK and FD which is the key here. Now take a look at my March in 2015. I had a really big month. I qualified for the NHL Championships on DraftKings, and was winning in NBA consistently. My spendings also went up. This is because I didn't let a slump kill my bankroll. This is one of the things I want to emphasize.
In early 2014, I was a young, naïve DFS player who thought he was the best in the world and immune to slumps and having to spend 10% a night. I was wrong. Spend what you are willing to lose nightly, and make sure you're not willing to spend more than 10% of your roll because that means you're willing to lose half your bankroll with one bad week. Another thing I want to emphasize is not to chase losses. Keep up your game selection, and check your RotoGrinders Bankroll tool, and see how you do in different games. Maybe you need to refine your game selection if you are losing, but putting up good lineups. One example of a thing I noticed was that I had a 69% win rate in head to heads in NBA, and a 62% win rate in double ups in NBA, yet I had a higher ROI in the double ups, as seen in the chart below. Based on this chart, I saw I was bad in the 11-20 man leagues because they're usually shark infested, and I'm good at double ups and large fields, so I decided that instead of doing a bunch of 20 and 40 man double ups, I would put a train in the large field ones instead.

Maybe you see you are best at head to heads. Whatever you are good at, do it more. If you are not a great head to head player, and have tried many different research tools, maybe it's because you think outside the box and miss the chalk nightly. Try multi-entering some GPP's some nights, so when your picks do well, you do well alone. Whatever the case is, always keep on top of things. Bankroll selection is much like player selection. Certain players are good for certain lineups (Cash and GPP), and certain lineups and slates are better to be invested in certain game types. Besides not chasing losses, and realizing your strengths, I also recommend trying to always refine your research and watch the games. We are not living in the matrix, and there are certain things that the eye can pick out that numbers can't. I am a huge analytics guy, but they don't always represent what happened. It's always good to look at analytics and metrics, but it is equally effective to watch and read about teams from a more general perspective.
It has been a tale of two years which have been completely different. I have cleaned out my DK and FD accounts for MLB, and I am starting fresh with a $10,000 bankroll. I hope to write another article at the end of the baseball season talking about how I did. Here is a summary of my 2015 so far. Keep in mind that the NHL was greatly hampered by one bad month, and was also good in 2014. Based on my win rates in NHL, it is fair to conclude that it was bad timing for the slump, as it was just after my big NBA night.

I hope this serves as some inspiration for everyone out there trying to make it, and I hope it also serves as a tool that prevents you from learning about bankroll management and game selection the hard way. Remember, you are all capable of learning the stats and sports to be better than your opponents, but no matter how smart you are, you will not win chasing the wrong game types, and not spending your money right. Best of luck Grinders!
Feel free to leave some questions that I might not have covered.