NFL Chalk Talk: Week 6
The next wave of DFS analysis is ownership projection for GPPs. We could argue that knowing exactly what our opponents are going to do is more important than our actual box-score projections. Give a sharp player the ownership percentages before the tournament starts and he/she will be able to be profitable solely on that information.
Of course, projecting ownership is no easy task. I am not smart enough to do it with a model or algorithm. I do it with logic, feel and by closely monitoring who "everyone" is talking about.
So each week, I'll give the three players at each position I think will be the highest owned in the DraftKings $20 buy-in Millionaire Maker. Please understand these are NOT my top-ranked players at each position – it's simply who I think will have the highest ownership percentage.
Editor's Note: This article refers to the Sunday-Monday slate only.
QUARTERBACK
1. Tom Brady $8100: 32 percent
I think a lot of people are seeing the value in "spending down" at quarterback in a full-PPR format. But it's going to be very hard for them to get off Brady this week. This is the Deflategate Bowl and the "Angry Tom" narrative is out in full force. My concern is that the Patriots have taken a decidedly run-heavy approach each time they've faced Indy in the Andrew Luck era and I suspect they'll go that route again. It doesn't mean Brady can't have a great game – but at this ownership and with the game-plan risks, it's an easy fade for me.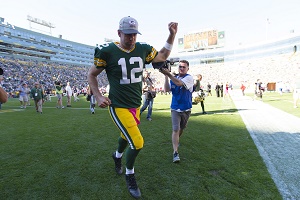 2. Aaron Rodgers $7700: 13 percent
Rodgers has a far tougher matchup than Brady – the Chargers have given up the 10th-fewest points to opposing quarterbacks and the most to opposing running backs. A-Rodg is also coming off two straight sub-standard weeks that will force people off him and he is priced similarly to Brady. But Rodgers is at home where he dominates and the Packers have a team total of 30 points. I think he'll still be owned a decent amount – but not as much as he should be.
3. Andy Dalton $5700: 11 percent
I'm not sure why the DraftKings pricing algorithm hates the Red Rifle so much. Dalton is just $700 over the minimum even though he's fantasy's No. 1 quarterback on the season. The only reason he won't be higher-owned is because everyone knows that playing in Ralph Wilson is very difficult even when the Bills' defense isn't very good. They also know that the unit is good this year and is coached by defensive mastermind Rex Ryan. I don't think Dalton has a huge ceiling in this spot, but we can't argue that he's grossly underpriced. I also think Sam Bradford ($600) will be in the 10-12 percent range.
PROJECTED UNDEROWNED QBs: Andrew Luck 9 percent, Eli Manning 8 percent, Carson Palmer 9 percent, Matthew Stafford 3 percent
RUNNING BACK
1. Le'Veon Bell $8500: 26 percent
If you watched Monday night's game against the Chargers, you saw it was a real struggle for the entire Steelers offense. That's what happens when your quarterback can't complete a simple screen pass or quick slant accurately. Despite that, Bell still squeezed out 25.7 DraftKings points so people won't be turned off from him. But note that came against arguably the league's worst run defense and now Bell has to face a Cardinals defense that has only given up one rushing TD to a running back on the year. If Ben Roethlisberger (knee) plays, I think 26 percent will be too low for Le'Veon. But if it's Vick, 26 percent is too high.
2. Dion Lewis $5800: 25 percent
Lewis started at $3000 in Week 1. Since then, his weekly salary has gone to $3400, $4200, $4800 and now $5800. He hasn't scored more than 24.8 DraftKings points in any game, averaging 20.45 per week. In other words, Lewis is finally approaching a fair price for his expected production. He's not quite there yet though, and everyone is going to want exposure to Patriots in this game. Lewis is less fragile than LeGarrette Blount – even if the Patriots somehow struggle to run the ball against this revamped Indy front, Lewis will be heavily involved. The only thing that will keep Lewis' ownership in check is Eddie Lacy ($6300) and Justin Forsett ($6400) in the same neighborhood.
3. Charcandrick West $4000: 18 percent
There is not very much value out there at all this week. Whereas last week we had a lot of people on Willie Snead, Leonard Hankerson, Kamar Aiken, Marquess Wilson, Owen Daniels and Philip Rivers among others, this week there's just nothing too appetizing for cheapies. So even though a lot of people may not want to roster West, they will have to if they want to get some of the high-priced guys in their lineup.
PROJECTED UNDEROWNED RBs: Marshawn Lynch 9 percent, Chris Ivory 7 percent, Arian Foster 8 percent
WIDE RECEIVER
1. DeAndre Hopkins $7700: 35 percent
Hopkins is on pace to smash the NFL record for targets in a season. Everyone is finally over the fact that he doesn't have a real quarterback and on the fact that he has Julio/Beckham upside – but for just $7700. There's also the weekly "Jags stigma" out there that will boost Nuk's ownership even higher. Anytime a receiver or tight end gets into this 35-40 percent range, I think there's merit to fading in large-field GPPs. But I can't see myself getting off Hopkins in cash.
2. Julian Edelman $7600: 30 percent
Whereas Rob Gronkowski has burned owners in his last two games, Edelman has been paying off his salary on a weekly basis. So I suspect that more owners will go with a Brady/Edelman stack than a Brady/Gronk stack. We also know that the Colts struggle against the slot position because Vontae Davis doesn't go inside. If the Patriots take even a balanced approach offensively, Edelman will be a great bet to top 20 DraftKings points for the fourth time in five games.
3. Larry Fitzgerald $7000: 22 percent
Odell Beckham's latest hamstring issue should keep him under 20 percent. I also think Allen Robinson ($5900), Brandon Marshall ($7100) and Jeremy Maclin ($6500) will be somewhat popular. But Fitz is the warm and cuddly option, the one with the Hall of Fame resume who hasn't let owners down once this season and is facing a bad Steelers defense. However, he's now up at $7000 after starting the year at $5500. There are pivots in that range to Calvin Johnson ($7300), Randall Cobb ($7300) and the aforementioned Marshall/Maclin. All of them have similar – if not higher – projections than Fitz.
PROJECTED UNDEROWNED WRs: A.J. Green 9 percent, Calvin Johnson 7 percent, Demaryius Thomas 5 percent
TIGHT END
1. Antonio Gates $4600: 27 percent
Gates was spectacular in front of the world on national television Monday night. He looked slimmer, quicker and more explosive out of his breaks – pretty amazing for an unroided 35-year-old. He's going to be the default tight end for a ton of people because of how he played in Week 5 and because he's $3000 less than Rob Gronkowski. I have no problem with that – just realize that he only played on 56.6 percent of the snaps. Expecting another 9-92-2 on 11 targets is wishful thinking.
2. Rob Gronkowski $7600: 22 percent
Recency bias will be in effect here. Gronkowski only has 17.1 and 10.7 DraftKings points in his last two games, yet his salary has actually crept up to $7600 (he started the year at $7000). That means more people will be looking to get off him, even with a nice matchup in the Deflategate Bowl. I'd take that as an opportunity to get on him, as there's no reason other than mere coincidence that Gronk's numbers have been down. He's blocking at the same rate he has previously and is not injured.
3. Gary Barnidge $4400: 10 percent
I don't think any of the other tight ends will stand out in terms of ownership. The white-hot Barnidge has a very difficult matchup, so he should stay around the 8-12 percent range. People will also want to be on Martellus Bennett, Tyler Eifert and Travis Kelce for 6-10 percent. When making decisions here, I wouldn't worry about ownership.
PROJECTED UNDEROWNED TEs: Julius Thomas 3 percent, Zach Ertz 4 percent, Richard Rodgers 5 percent